This is my 1966 Nova.
I purchased this 66 in Febuary of 1998 and these pics show the condition I bought it in.
Accually these pics were taken after i installed the carpet kit, side door panels, and rims.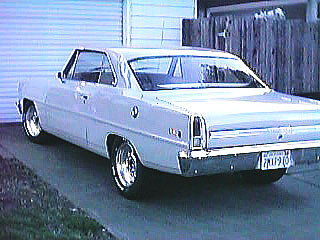 Current equip:
66 327ci with the 275hp options.
Th350 with shift kit.
3.08 geared rear end non-posi.
Msd 6a.
205/60 15's fron and 245/60 15's for the rear.
Current E.T. : 15.7@87 mph
Plans for the Car:
To be installed:
280/480 comp cams mag.
blaster 2.
700r4.
performer rpm intake.
holley 650cfm.
Headers /w Flowmasters.
After these parts have been installed im hoping to run in 13's
Eventually my weiend blower will find a home on a new 350.
After this engine is thrown in along with 3.55 posi i hope to run 11's who knows/.